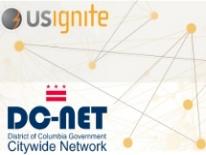 DC-Net is bringing the benefits of technological innovation to the District government and its constituents. Through its partnership with US Ignite—whose mission is to foster the creation of next-generation Internet applications that provide transformative public benefit—the District is leveraging the city's ultra-high speed fiber optic network to bring new applications and services to the city in the areas of health, education, and public safety.
Nationwide, US Ignite aims to catalyze approximately 60 advanced applications in six areas of priority: education and workforce development, advanced manufacturing, health IT, transportation, public safety and clean energy.
In the District, DC-Net is connecting community anchors, government agencies, research and development institutions and others to the city's network. At the same time—through involvement with the National Science Foundation funded GENI (Global Environment for Network Innovation) program—DC-Net is enabling key technologies, such as software defined networking in pilot envieronmnets for research purposes that will foster next-generation application development.
As a critical part of this effort, DC-Net is working with the George Washington University's Capital Area Advanced Research and Education Network (CAAREN) to provide local connectivity for universities, research institutions, government, and community anchors to the Internet2 high-speed research and development network.
Learn more about US Ignite.
Learn more about GENI.
Learn more about CAAREN.