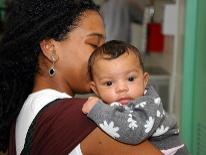 As a provider of healthcare and housing to some of DC's most underserved, Community of Hope looked to DC-CAN broadband services for an affordable, stable, and secure Internet connection at each of its locations.
"Internet service has been a critical requirement for our programs for some time," said Victoria Roberts, Community of Hope's Deputy Director. "Through DC-CAN we are now able to get seven times more bandwidth for the same cost we previously paid, and the fiber network ensures that connection is truly reliable, which has been challenging in the neighborhoods we work in."
Roberts anticipates significant savings just by reducing the downtime which resulted from previous unstable connections. "Downtime in a healthcare environment not only impacts patient care, but also our billing, communications, and capacity. And, in an organization spread out across the city, coordination of care truly suffers when email is down. We are really grateful to be a partner with DC-CAN."
With the implementation of electronic medical records and coordination of reports to the city's housing database, Community of Hope relies on technology to improve the quality of life of its clients and to provide information needed to do a better job.
"Our broadband services are an important component in our switch to Electronic Medical Records (EMR). EMR allows our providers to more easily track and manage chronic diseases in order to create better health outcomes for our patients and better coordination of care," said Roberts.
With the stable, secure, and fast Internet connection provided by DC-CAN, Community of Hope can fully utilize these systems and be sure that this information is kept confidential.
Community of Hope will also provide wireless public access within each location, enabling patients to use the Internet to become better informed in health center waiting rooms, and enabling homeless and formerly homeless families at housing sites to use the computer labs to search for jobs, do their homework, and learn more about resources available to them in DC
In addition, external wireless access points at each site will extend free Wi-Fi Internet coverage into the nearby neighborhoods.
Overall DC-CAN is helping Community of Hope to fulfill its mission of providing hope and stability to low-income and homeless adults and children in DC.
"The increased bandwidth from DC-CAN at such an affordable rate will allow us to more effectively interconnect our various locations throughout the city," said Roberts, "saving money and time on maintaining and replacing physical equipment at our sites while improving communications and enhancing security. And, as we explore other programs and unified communications to help us manage growth and remain efficient, we don't have to let bandwidth concerns limit the possibilities."
For more information about Community of Hope, see: http://www.communityofhopedc.org/.