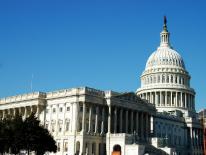 Federal agencies in the District of Columbia can take advantage of DC-Net secure, highly reliable services for their data network, telecommunications, and private cloud needs. Owned and managed by the District of Columbia Government, DC-Net provides true government-to-government service, offering federal agencies both significant cost and operational efficiencies (see the US Office of Personnel Management case study).
Services to federal agencies include:
Data Transport—Saving agencies over 30 percent in ongoing transport costs through its secure, reliable services:
Private Cloud
Key network features include:
Public safety grade network serving government since 2003.
Nearly 600 miles of fiber throughout the District, supported by a 100 Gbps underground backbone optical network.
Services at 300+ buildings in the District, data connectivity to 100+ federal and District government agencies, customer base of 75,000 users.
Physical and logical site redundancy, Five9 availability, service-level agreements customized to your agency's specific needs.
State-of-the-art Network Operations Center (NOC) and Security Operations Center (SOC) in three locations, providing 24/7 monitoring and immediate trouble response.
FIPS-compliant network infrastructure with security boundaries ensuring agency-centric data separation and protection.
Interconnection with major carriers (including Internet2) at 14 sites throughout the city, CoreSite in Reston, VA, and Terremark in Culpeper, VA.
To learn more about our federal solutions, contact our Federal Account Services team at dcnet@dc.gov.