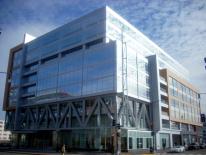 DC-Net provides a full range of network and telecommunications services to the District of Columbia Government. As the first mile for all District government networking, DC-Net serves over 400 District government agency locations, including public schools, public libraries, police, fire and emergency medical services, parks and community centers, DMV sites, DOES One-Stop locations, senior centers, District-owned hospitals and clinics, public housing sites and government administrative offices—to name just a few.
District government agencies looking for more information on our services specifically available for local government including MPLS-based Virtual Private Networks, automatic call distribution, E-Fax, video teleconferencing and recording and others, should contact DC-Net at (202) 715-3800.
In the past several years, DC-Net has been instrumental in modernizing technology infrastructure in DC public schools and libraries, and developing state-of-the-art solutions at new District government sites. For more information, see our past projects.