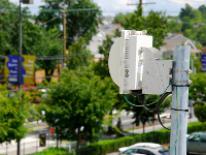 District residents and visitors have a new mobile application to help them find city-managed hotspots. DC WiFi is available for free at the Google and Apple online stores.
DC WiFi helps users find hotspots near their location and provides directions to the selected hotspot. OCTO has deployed over 600 Wi-Fi hotspots throughout the city, including at all public libraries, at many city parks, and on the National Mall.
Since 2010, DC-Net has not only brought fiber-based broadband services to community anchor locations throughout the District, such as charter schools, health clinics and other non-profits. It has also upgraded network infrastructure at many public libraries, FEMS locations and police stations. At many of these new community anchor sites and at all DC government upgrade sites DC-Net was added one or more public Wi-Fi hotspots.
Available at all times, this outdoor Wi-Fi service has enhanced the public's experience at events including the 2013 Presidential Inauguration, the Marine Corps Marathon, the Smithsonian Folklife Festival, the US Science and Technology Festival and many more.
For a map of Wi-Fi hotspots, see the DC Wi-Fi hotspot map.