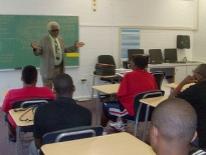 Harness the power and reliability of fiber with DC-Net's high speed Internet and voice services. Community-based health and education non-profits in the District can now take advantage of the broadband savings and value-add services DC-Net provides.
DC-Net offers fully dedicated, what-you-sign-up-for-is-what-you-get Internet—all the time. No up to speeds. No waiting around. No oversubscription. We also offer the same upload and download speeds—meaning that students and health care workers will notice the difference not just in accessing the Internet but in sending data such as test results and critical lab data. Our service is backed by a full service-level agreement (SLA) and a professional, responsive 24/7 support team.
But don't just take it from us. See how other non-profits are using DC-Net services to save money, improve their core service delivery and realize their mission in the community.
Schools and universities—DC-Net is an eligible E-Rate provider to many charter schools in the District. Learn more about our education-based offerings, including access to Internet2 research and education network.
Health care providers—DC-Net provides HIPAA-compliant transport and is an eligible Health Care Connect Fund provider. Learn more about our network and health solutions.
Links: