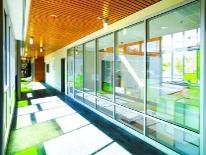 The new state-of-the-art Educare early childhood education center in Ward 7 is officially open for business, with 157 infants, toddlers, preschoolers and their families ready to benefit from services this fall. Behind the scenes at the new facility—helping staff, administrators, and parents—is high-quality broadband service from the District of Columbia.
"Having a reliable broadband service allows us to function efficiently and to focus on our work with children and families," said Carol Howard, Executive Director of Educare in Washington, DC. "The less time and money we have to spend worrying about technology, the more we can put towards our real work—which is educating and helping families."
Committed to applying and improving best practices in early childhood development, Educare takes a holistic approach to working with children and their families. Small class sizes and strong teacher-student relationships—along with parent support resources—provide a cohesive fabric of care that Educare leaders hope will close the achievement gap for children in poverty.
In support of this mission, services at the $12 million facility, located in the Parkside/Kenilworth community, brings connectivity to a new level. Fiber-based Internet, voice over IP, and Wi-Fi services from DC-Net offer a high capacity networking environment which includes:
A computer resource center at the facility gives parents high-speed access to the Internet, enabling families that may not have regular and reliable Internet access at home to look for work, access educational and other opportunities, and to just connect.
Access for staff to mission critical Web-based applications.
Private and public Internet access via indoor Wi-Fi access points throughout the building and via a free outdoor Wi-Fi hotspot scheduled for deployment soon.
As part of the DC-CAN project made possible through grant funding as part of the American Recovery and Reinvestment Act, DC-Net was able to extend fiber optic connection setup and equipment installation at no cost to Educare—a savings of over $13,000 in upfront costs.
In addition, DC-Net broadband services are saving the organization each month. According to Ganna Grinshpun, CIO of United Planning Organization, which partners with Educare in managing services at the site, "DC-Net Internet and voice over IP services—when compared to commercial providers—are saving Educare over $12,000 per year in monthly costs."
"As we begin serving young children and their families here in Washington, DC, we feel assured that we have the best technology at our disposal to do so." said Carol Howard, "And as we grow, it is good to know our broadband services can expand with us at a minimal increase in cost."