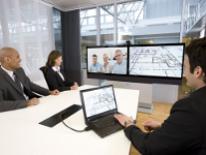 DC-Net supports the following Cisco/Tandberg endpoint types installed by DC-Net or approved integration vendors:
Immersive solutions—1300, 3000, 3200 and T series high-end solutions
Multi-purpose conference room—Profile and MX series codecs
Desktop Telepresence—EX series for executive users
Jabber Video Client for PC laptop or Mac—HD experience for the mobile user
Video phones—Cisco 9971 IP video phone with attached camera
Customers with other endpoint types can purchase VTC service; however, they will need to maintain support for their endpoints.
Immersive Solutions
Immersive video teleconferencing solutions use state-of-the-art technology to deliver telepresence quality video at 2+ Mbps quality per screen.
Options include:
1300 Series—Telepresence quality in multi-purpose room
3200, 3000 Series—Medium to large groups
T Series—Ultra high-end, fully designed bluescreen room
For more all immersive solution deployments, you will engage one of our preferred vendors for endpoint room design and installation.
Multi-Purpose Conference Room
Multi-purpose conference room endpoints give you the opportunity to host larger scale, collaborative meetings using HD or SD video depending on the codec selected.
Options include:
Profile Series—1080p30 and 720p60 resolution; 42, 52 and 65 inch screens
MX200 and MX300—1080p30 and 720p60 resolution; 42 and 55 inch screens
C20—You can use your own monitor
This codec-driven endpoint supports connectivity to any other standards-driven endpoint.
For basic multi-purpose conference room endpoints, DC-Net provides design and installation. For more complex deployments, you will engage one of our preferred vendors for endpoint design and installation. Add a Monthly or On-Demand Multi-Port Bridging service for multi-point conferencing.
Desktop Telepresence
The Cisco EX60 and EX90 endpoints bring personal telepresence to the desktop, letting you and your colleagues collaborate face-to-face on a full high-definition 24-inch or 21.5-inch screen. The endpoint can be used as both a PC monitor and a telepresence system, giving you more flexibility at your desk.
Key features:
Simple touch-screen control that makes calling and sharing easy and intuitive
1080p30 and 720p60 video resolution for an optimal telepresence experience at the desk
H.323 and Session Initiation Protocol (SIP) with bandwidth up to 6 Mbps point-to-point
Natural, transparent collaboration with one-touch sharing of high-definition (HD) content and a built-in document camera feature
An included wideband handset with an option to add a headset input for privacy
Jabber Video Client
The standalone mobile Jabber Video Client (formerly Movi) extends the reach of high definition, telepresence quality video to the remote user. Jabber Video works with a compatible PC or Mac and a webcam or Cisco TelePresence PrecisionHD camera. Jabber Video can connect to telepresence systems, resulting in a wider community of colleagues, partners, and business customers.
Key features include:
Support for up to 1080p HD quality at 30 fps
Supported on PC and Mac platforms
Ability to make outbound video/audio calls and to receive inbound Jabber Video or other video conference endpoint calls
Video Phones
The Cisco Unified IP Phone 9971 delivers high-quality, advanced interactive HD quality video communications, giving you the ability to conduct cost-effective face-to-face conferencing from your desktop. The phone includes Cisco Unified Video Camera.