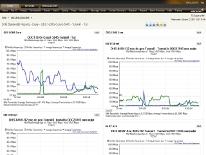 DC-Net customers receiving managed VPN services can now monitor their network performance through a secure, customer-only portal with the low-cost Network Monitoring monthly subscription service.
Agencies can monitor and analyze real-time, in-depth, network performance statistics for routers, switches, wireless access points, servers and any other SNMP-enabled devices on their network.
The Network Monitoring service makes use of the following SolarWinds Orion Network Performance Monitoring features:
Web portal access through a secured login—Leverages existing Microsoft® Active Directory™ user accounts to provide login credentials.
Daily monitoring for each device on the network—Supports drill down on a device-by-device basis and display of detailed system information on your network device, server, virtual machine, or virtual or Fibre Channel switch.
Alerts and notifications via email
Error and problem identification—Enables quick and easily troubleshooting of network issues with SolarWinds LUCID™ interface.
Circuit utilization, plus memory and CPU.
Availability and uptime.
Top 10 reports—Out-of-the-box reports deliver insight into the health of your network or data center.
Inventory and reporting—Supports sharing of performance data with stakeholders who don't have a login—easily schedule and export reports to a .PDF format.