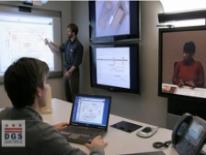 The District's Consolidated Forensic Laboratory (CFL) brings public safety forensic science and public health efforts into a single world-class, state-of-the-art facility. In support of this, the DC-Net video conferencing solution at the CFL gives forensic scientists, medical examiners and police at the site the ability to communicate using state-of-the-art video teleconferencing tools not just within the building, but with scientists, doctors and public safety experts across the network and throughout the world as well.
Completed in 2012, DC-Net designed and oversaw implementation of high definition (HD) video conference, training and multi-purpose room solutions that support multi-party conferencing, PC presentation and fully integrated audio and video.
The use of HD video extends the medical examiner's ability to teach through the operating theater and training sessions to medical students and doctors not just at the facility, but at other locations such as teaching hospitals. Similarly, forensic evidence may be examined and shared in real time with remote experts around the country.
Just as the CFL plays a vital role in advancing and improving public safety support, homeland security, crime investigation capabilities and public health and science in the District, state-of-the-art video conferencing at the site is a critical tool for advancing the District's public safety communications.
Video is a key component of the DC-Net converged network solution, but it is not the only piece. Ultra high bandwidth connectivity to the CFL on the DC-Net network (10 Gbps building backbone with 1 Gbps Ethernet to each desktop) with an SLA guaranteed at 99.999% uptime, is the underlying platform for all telecommunications services at the site.