New building near Navy Yard Metro gets state-of-the-art telecommunications infrastructure.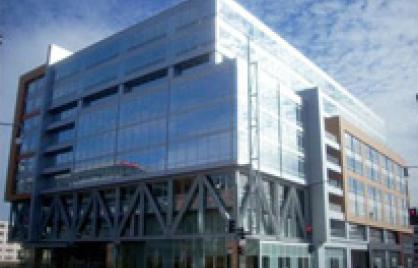 In coordination with the District of Columbia Department of Real Estate Services (DRES), DC-Net has planned, designed, and implemented a secure unified communications network at the District's new 150,000 square foot 55 M Street, SE location—home to the new District Department of Transportation (DDOT) headquarters. This high capacity network, which went live in April 2011, supports all voice, video, data and wireless requirements outlined by DRES for agencies at the site.
"The DC-Net team was extremely professional in all phases of this project, from how they conducted their weekly meetings with us to the network deployment and follow through," said Lance Schine, DDOT Chief Information Officer. "They were able to gracefully accommodate a number of last minute requirements changes without impacting the schedule. I don't believe we ever had a bad port or phone connection."
DC-Net's converged voice (VoIP) and data network supports the latest in unified communications, web collaboration and equipment consolidation, including:
Fully integrated Cisco Systems enterprise architecture
Easy to upgrade electronic switches
Centralized power management using Power over Ethernet (PoE) switch ports capable of supporting 15 watts of power per port for wireless access points and Cisco VoIP phones
Redundant processors in core switching equipment and dual fiber uplinks to the Main Distribution Facility in the building and the Wide Area Network
10 Gigabits per second (Gbps) building backbone
1 Gbps Ethernet to each end user desktop
1 Gbps network connection to DDOT Reeves data center and the Office of Unified Communications (OUC)
Virtual LAN capability for segmenting DDOT user data traffic, camera traffic, video conferencing, public wireless and voice
Backup DC Power
Nearly 2000 ports throughout the building, with over 1100 active at time of initial installation and over 600 active ports for DDOT
Lightweight wireless access points—installed indoors and managed by DC-Net—provide dual 2.4 and 5.0 GHz radios and 802.11 a/g/n compliant access. The wireless network offers secure, government user and public guest access.
The relocation to the new site, directly above the west end of the Navy Yard Metro station in the Waterfront area, brings DDOT workers from its former 2000 14th Street, NW and 64 New York Avenue, NW locations. Additional space at the new site can accommodate future DDOT expansion or agency relocation. For more information about the construction project, see the DRES website.
For more information about DDOT's move, visit the DDOT website.