DC-Net provides telecom services to agencies relocating to new Southwest Waterfront offices.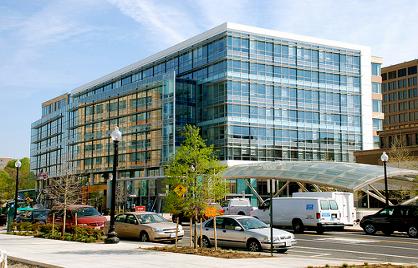 As a critical part of the Southwest Waterfront relocation project completed in the spring of 2010, DC-Net designed and installed a fully converged IP network infrastructure for the two new eight story office buildings located at 4th and M Street, Southwest at the Waterfront-Southeastern University Metro station. These state-of-the-art offices house approximately 2,000 workers from five District government agencies relocating from various sites throughout the city.
These agencies include:
The DC Department of Transportation (50 workers)
The Office of Planning (90 workers)
The DC Department of Consumer & Regulatory Affairs (500 workers)
The Office of the Chief Financial Officer (1400 workers)
The Department of Real Estate Services (DRES) Protective Services Division
DRES, which led the relocation initiative, began planning meetings with DC-Net in early spring 2009 as construction at the site was already underway. The project's overall telecommunications budget was set at $2.1 million. Working closely with DRES through the planning stages, DC-Net identified the technical requirements for each agency and provided a cohesive building design that met DRES and individual agency IT needs.
Network Design, Topology, and Installation
What emerged was a LAN topology that includes Cisco Catalyst 4500 series switches on each floor of the two buildings. Each floor switch was configured with redundant uploads to redundant Cisco 6509 core switches that route agency data and voice traffic in VPNs to the DC-Net network and the Internet. Bandwidth at the site is 1 gigabit per second from each floor and 10 gigabits per second to the network. Waterfront traffic is routed to two separate DC-Net metro rings, providing physical redundancy to the location.
DC-Net began fiber construction at the site in the fall of 2009 and began installation of inside plant equipment in early 2010. Installation for this massive project was completed on schedule in March 2010, with users transitioning into the buildings in phases over the next two months.
"Our initial concern was, will we be operational on our first day. The answer to that was a resounding yes," said Gus Viteri, Chief Information Officer of DCRA, which moved 300 people to the Waterfront on April 22. "Our folks were able to successfully log in to systems to do their work, make their phone calls and answer if they needed to."