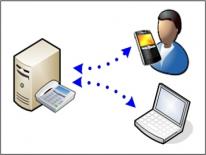 Unified Messaging is currently available for District government customers only.
Unified Messaging is a vital tool for getting all your messages all the time. It lets you access and manage all voicemail to your landline and email. You can play voice messages from your Outlook inbox. This service features 30 days of storage for messages.
With Outlook and Outlook Web Access Voicemail Integration you can:
See all your voicemails in your mailbox.
Play a voicemail from your computer.
Play voicemail on a telephone (office, mobile and even home phone).
Forward voicemails to an individual or distribution list.
See missed calls as emails.