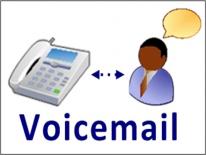 DC-Net provides voicemail options for all voice services.
Avaya Digital and VoIP services—DC-Net offers Avaya Modular Messaging, a powerful unified messaging platform that offers exceptional scalability and a superior feature package of call answering, voice messaging and speech capabilities. TTY/TDD support for disabled callers and hearing-impaired employees and callers is included.
Cisco VoIP service—DC-Net offers Cisco Unity, a reliable, secure, scalable and full-featured voice and unified messaging platform.
Note: Cisco and Avaya voicemail systems do not interoperate by default.
Voicemail options include:
Voicemail 30 Minute Storage Single Password
Voicemail Premium 60 Minute Storage
Voicemail Premium 90 Minute Storage
Voicemail Announcement Only
Standard voicemail messages are stored for 90 days.
You can purchase voicemail on the first line and additional lines.