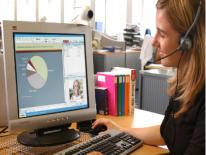 DC-Net Web Conferencing gives you the power to conduct live online meetings, presentations and interactive training sessions for group sizes of 1000 users.
Take advantage of integrated voice and video, and access meetings via PC or Mac, iPhone, Blackberry or other mobile devices. DC-Net Web Conferencing is a managed service that uses Cisco WebEx Meeting Center. It features Cisco-based 24/7 technical support [1 (866) 229-3239] and online training in your monthly service.
In a web conference, each participant sits at his or her own computer and is connected to other participants via the Internet.
Key Benefits
Online meetings—Put an end to frustrating conference calls and back-and-forth emails. Accomplish more in less time.
Presentations—Make sales presentations, demonstrate applications and even review contracts online.
Live interactive training—Train customers, partners and employees anywhere in the world. Record for on-demand training, too.
Large online events—Get your message out to more people faster. Use WebEx for targeted webinars, online press briefings or any type of communication.
IT helpdesk support—Support distributed users from any location. Remotely control desktops to see and fix issues in real time.
Customer support—Troubleshoot and resolve remote customer problems via WebEx as if you were on site.
Key Features
Meet with up to 1000 people at a time for a low $44 per month subscription cost.
Share documents, presentations and applications.
Meet from your PC or Mac—including your iPhone, Blackberry or any other WiFi- or 3G-enabled mobile device!
Use integrated voice conferencing—join by phone or computer (VoIP).
Schedule meetings yourself (Outlook integration).
Access meetings on-net via DC-Net, off-net over the Internet.
Record meetings for those who missed the session—or new audiences.
Deliver rich multimedia (streaming video and up to six webcams).
Count on exceptional reliability and security.
Get 24/7 dedicated support.
Note: Video and collaboration over WebEx are unlimited. Charges for connecting to WebEx audio vary:
Webex Call Back Feature (1-800 number) – audio is 5.5 cents per minute per user (reduced from 6.5 cents).
Toll calls (for example, 650-xxx-xxxx) – audio is 3 cents per minute per user.
VoIP through a computer or via headsets (and iPad/laptop audio), not through a phone – audio is now free.
Get Started
For more information about DC-Net Web Conferencing, see the following links: