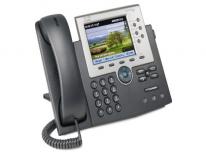 VoIP Managed Service
DC-Net provides Voice over IP (VoIP) managed services based on industry-leading Cisco Systems for government customers. A key part of a unified communications solution, VoIP enables government users to access unified communications and other rich applications including unified messaging and soft client video conferencing.. DC-Net will deploy a solution based on customer needs and infrastructure.
VoIP allows telephone calls to be made over computer networks like the Internet. It converts analog voice signals into digital data packets and supports real-time, two-way transmission of conversations using Internet Protocol (IP). DC-Net uses Multiprotocol Label Switching (MPLS) to route VoIP calls across its network.
Features
Basic Features
The following end user phone features are included in the VoIP service:
Extension to Extension Dialing—7 or 10 Digit Extension
Caller ID
Call Forwarding
Call Forwarding Always
Call Forwarding Busy
Call Forwarding No Answer
Call Logs
Call Transfer
Call Waiting
Calling Line ID Delivery and Blocking
Calling Name Retrieval
Do Not Disturb
E911 Service
Last Number Redial
Shared Call Appearance
Simultaneous Ring
Three Way Calling/Conference
On-Net Call (internal calls)
Local Calls (DC Metro Area)
Domestic Long Distance (US States only)
Voicemail (if selected)
Troubleshooting support
Advanced Features
The following features are supported but additional charges will apply:
Call Tree/Call Menu
Customized Greetings including After Hours and Holiday messages
Customized Internal Directory Listing
Customized extension dialing—(e.g. 4-digit)
Internal Intercom