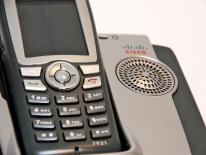 Enhance the user experience and personal freedom with support for Bluetooth. Increase business continuity by taking advantage of a new ruggedized industrial design. The Cisco Unified Wireless IP Phone 7925G for mobile professionals extends the functionality of the existing Cisco Unified Wireless IP Phone 7921G with the following new features:
Support for Bluetooth v2.0 headset profiles gives you more freedom.
Hermetically sealed phone/display is IP54 rated and protects against dust, liquids, moist wipes and is ideal for deployment in more demanding environments.
Ruggedized industrial design is compliant with military 810F standard and includes a rubber casing to shield the phone from damage caused by drops and shocks.
A more compact form factor gives you an IP phone that is easier to hold.
Additional features
IEEE 802.11a, b, and g standards that allow customers to use the phone in the 2.4 GHz or 5 GHz bands.
A 2-inch color display (176 X 220 TFT) that is easier to read and enhances XML applications.
Built-in speakerphone capabilities.
Dedicated mute and volume keys, and separate Application button that can support Push-to-Talk via Extensible Markup Language (XML).
Longer battery life (200 hours standby time or 15.5 hours talk time).
High durability for all business environments.
Exceptional voice quality with support for wideband audio.
Diversity antenna for better RF coverage.
Support for wide range of enterprise applications through XML.
Wireless security features including LEAP, PEAP, EAP-FAST, EAP-TLS, WPA, WPA2, CCKM, WEP, TKIP/MIC and AES.
Voice security features including Certificates, Secure Real-Time Protocol (SRTP) and Transport Layer Security (TLS).
Support for Wavelink Avalanche.
Quality of service features including WMM, TSPEC, EDCA and QBSS.